Arbor Mobile

SM
Get started!
You must be enrolled in Online Banking to access Arbor MobileSM.
If you are not currently using Online Banking, it's easy to sign up.
Enroll in Online Banking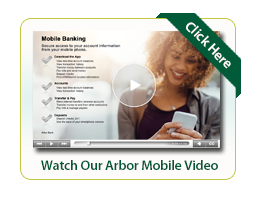 Banking as mobile as you are!
Access your Arbor Bank accounts through your mobile phone or tablet.
Get account balances
View transaction history
Deposit Checks1
Pay bills
Transfer money between accounts
Find branches and ATMs
1More Information on Mobile Deposit
Arbor MobileSM is included with every Arbor Bank Checking and Savings Account!
Each online banking user with login credentials can enroll a mobile device in Arbor MobileSM.
Arbor Bank does not charge for Arbor MobileSM. Depending on the plan you have with your mobile service provider, you may incur charges. (Message and data rates may apply.)
Four Ways to use Arbor MobileSM
Arbor MobileSM works with virtually any mobile device. Use just one or use all four - it's your choice!
Smartphone App Banking*

Mobile Browser*

Text Banking*

If you have a smartphone such as an Android or iPhone, you can download our Arbor MobileSM app to have all the benefits of Online Banking at your fingertips.

If you have a phone with internet access, you already have access to features such as Online Bill Pay and the ability to transfer funds - in addition to viewing your balance and transaction history.

Text banking allows users to access account information such as balance and recent transactions via text message to Arbor Bank.


No internet service is required. Once set up, just text a command to us at 31727 anytime. We'll reply with your requested information in an instant. Codes include:

BAL - Balance of all accounts
HIST + acct nickname - History of that specific account
HELP - Help
STOP - Cancel service

*Message and data rates may apply.

Tablet Banking*

Download the app and you'll have the same security, convenience, and all of the features of Arbor MobileSM app banking right on your tablet.
Security
Arbor MobileSM offers the following security safeguards:
Authentication - Mobile browser and app users are authenticated by username and password each time you log on.
Encryption - The latest encryption technology is used for all transactions and masks your sensitive information.
Inactivity - After 3-5 minutes of inactivity, your mobile session will time out. However, you should always log out after each mobile banking session.