Arbor Direct

SM

* - Online Cash Management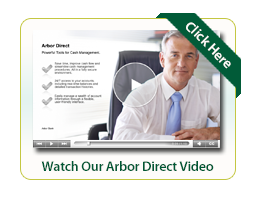 Arbor DirectSM is Arbor Bank's corporate cash management solution. Customizable for any size of business, this program includes all of the capabilities of our Online Banking and Bill Pay systems with several additional features designed especially for our business clients.
Customizable Log-ins - Add unlimited individuals, each with customized access to accounts and functions within the system. You control user access with the ability to assign different roles for your accountant and office personnel.
Security - Arbor Bank delivers the highest level of security for our Arbor DirectSM customers. Unique user identifications and passwords, security tokens, and additional steps help to ensure that your accounts are safe.
Payroll Direct Deposit - Arbor DirectSM gives you the flexibility to generate your own payroll files and generate direct deposits. You can reduce the cost and time of cutting and mailing payroll checks. Payroll files can be downloaded from your existing software for fast and easy processing.
Cash Concentrations - Control your cash flow by centralizing additional funds from other bank accounts to your account at Arbor Bank via electronic ACH transfers.
Originate ACH transactions - Whether you need to pay a vendor, pull recurring payments from your customers, or process telephone initiated transactions - we have a solution for you.
Originate wire transactions - Securely initiate wires with our online wire manager.
Positive Pay - Give yourself peace of mind by using our automated check fraud detection solution.
With online cash management solutions from Arbor DirectSM, the possibilities are nearly endless. We can customize a solution and streamline your cash management processes.
*Fees may apply.